Shoppa i Miami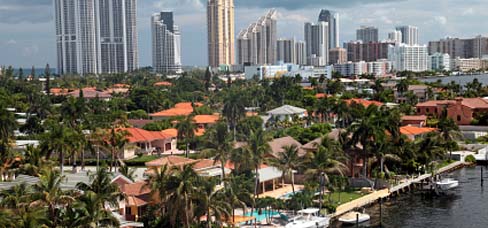 Det finns gott om små och stora klädbutiker kring Lincoln Road och Collins Avenue i South Beach. I Miami finns även många stora shoppingcentran med kläder, kosmetika, skor och allt du kan tänkas behöva.
BLOOMINGDALE'S Stor, nationell butikskedja som rymmer det mesta, från designerkläder till hushållsprylar och skor. Bloomingdale's hittar du inuti shoppingcentrat The Falls och inuti Aventura Mall, båda ligger en bit utanför stan. The Falls, 8778 South West 136th Street, vid South Dixie Highway, södra Miami och Aventura Mall, 19501 Biscayne Boulevard i Aventura.
MACY'S Samma affärsidé som Bloomingdales. Det mesta du behöver finns under ett och samma sak, från kosmetika och mode till kastruller och joggingskor. Macy's finns inne i shoppingcentrat The Falls och inne i Aventura Mall. The Falls, 9100 South West 136th Street, södra Miami och Aventura Mall, 19535 Biscayne Boulevard, vid North East 196th Street i Aventura,
MISS SIXTY Italienskt klädmärke och butikskedja för modemedvetna kvinnor. Jeans, blusar, t-shirts med mera. Modepriser, men inte designpriser, på prislapparna. 845 Lincoln Road, vid Jefferson Avenue, South Beach, www.missixty.com.
CLUB MONACO Återskapelser av de dyraste märkenas kollektioner till priser som alla har råd med. 624 Collins Avenue, vid 6th Street, South Beach, www.clubmonaco.com.
BARNEYS NEW YORK-CO-OP Klädkedja med butiker i bland annat New York. Seven Jeans och Marc by Marc Jacobs är några klädmärken som de säljer. Relativt dyrt. 832 Collins Avenue, vid 8th Street, South Beach

KENNETH COLE Två våningar med bara skor, väskor och kläder. 190 8th Street, vid Collins Avenue, South Beach.
OUTLETSHOPPING Den som vill handla märkeskläder till en bråkdel av originalpriset satsar på en heldag i någon av USA: s så kallade outletbutiker. Outletbutikerna, som är jättelika i storlek, säljer förra säsongens kläder och de kläder som inte passerat tillverkarens slutgiltiga kvalitetskontroll (plaggen har oftast så små fel att du inte ens kommer att upptäcka dem). Sawgrass Mills är Floridas största outlet och räknas som ett av Floridas populäraste turistmål. Sawgrass Mills ligger i Broward County, en bra bit norr om Miami. Dolphin Mall är mindre, men ligger i gengäld bara 8 km från Miami International Airport. Outletshopping är kul och plånboksvänligt, men tröttsamt. Ta på dig fotriktiga skor och utrusta dig med massor av tålamod! Sawgrass Mills ligger på 12801 West Sunrise Boulevard, i Broward County, www.sawgrassmills.com. Dolphin Mall ligger på 11401 North West 12th Street, vid North West 114th Avenue,
i Sweetwater,  www.shopdolphinmall.com.